MCV-500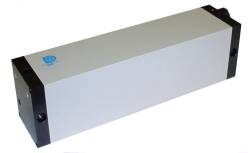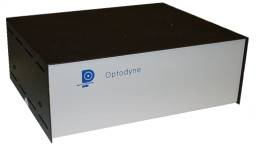 L-109
Linear Machine Calibration
OPTODYNE'S MCV-500 Compact Linear Machine Calibration System, calibrates CNC machine tools, CMM's (Coordinate Measuring Machines), and other precision measuring machines and stages.
This new compact calibration system, based on the patented Laser Doppler Displacement Meter (LDDMT"') technology, is designed for easy setup and operation. The basic system, including Windows™ software, automatic compensation, (compensates for air temperature, barometric pressure, and material thermal expansion) and accessories are packaged at an extremely affordable price. The system is very compact and fits in one small carrying case.
The WindowsTM software, running on any IBM compatible computer, is user friendly and is designed to collect and analyze data in accordance with a variety of industry standards, such as NMTBA, VDI, ISO and ASME B5.54. The laser system is calibrated and traceable to NIST.
MAJOR FEATURES AND BENEFITS:
• Compact and light-weight
• Easy to setup and operate
• Automatic data collection
• NIST traceable laser accuracy
• No tripod and no interferometer
• Windows™ software
• RS-232 interface
• Automatic environmental compensation
• Supports NMTBA, VDI, ISO and ASME B5.54 standards
MAJOR APPLICATIONS:
• Linear calibration of CNC machine tools, CMM's, Leadscrews, and DRO's
• Quality control maintenance
• Ultra precision positioning
Specifications:
The MCV-500 Machine Calibration System features environmental compensation sensors. These devices automatically adjust the collected data for air temperature, barometric pressure, and thermal expansion of the axis being calibrated. With the "Automatic Data Collection", the operator programs the table into position, the system automatically senses the table movement and data is collected after a user defined interval.
CONFIGURATION:
| | |
| --- | --- |
| Single aperture laser head | L-109 |
| Processor module w/RS-232 Interface | P-108D |
| ˝ " Diameter Retro-reflector | R-102 |
| Metrology/Analysis Program | W-500 |
| Automatic Temperature Compensation | IATCP |
| 90 degree beam bender | LD-37S |
| Magnetic Base | LD-03 |
| Adapter platform | LD-14A |
| 12 ft. cable set | LD-21L |
| Carrying case | LD-20D |
| Notebook computer (not included) | LTC |
CAPABILITY:
| | |
| --- | --- |
| Laser Stability | 0.1ppm |
| System Accuracy | 1.0 ppm |
| Resolution | 1 microinch (0.01 µm) |
| Range | 50 feet (15 meters) |
| Slew Rate | 144 ips (3.6 m/s) |
| Power | 90 to 230 VAC |